How it began
The birth
In 1962 Fred Zenner saw at an event one bed gable, which was converted to a bicycle. This inspired him so much that he and a few "crazies" was composed and asked the question: "How can you build a bike out of a bed frame?" From that day on, nothing was as before. They met frequently at night to assemble this bed frame. At the same time also came ideas for other cycles. It was cut, bent, welded and bolted. What came out of there could be proud of and so we then took the Carnival parade in Gasperich (a suburb of Luxembourg) participated.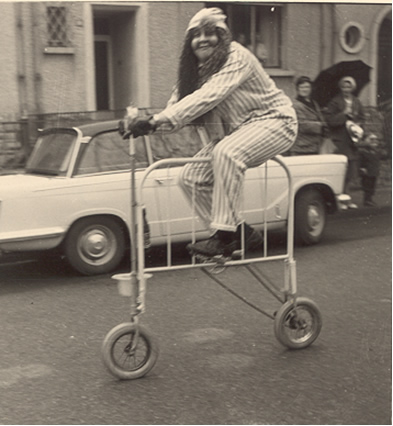 The 60s and 70s
From then were even more "funny" bikes built so that in 1963 was called Cycles Comiques Olm. Olm is a small town northwest of Luxembourg. This year we already took in parades in Gilsdorf, Weidingen and attended the Mosel. In the 70s, more and more people came into the club, so that increased the number of bicycles. This also allowed the club to the great Luxembourg cavalcades (parades), as part Differdange increase. But it was not only on the 5th Season focused, but they also took the wine festival in Grevenmacher, in part as well as in St. Mard (Belgium).
"A snowflake can trigger an avalanche"
As they say, "a snowflake can cause an avalanche," it happened to the Cycles Comiques. In the 80s and 90s, the club continued to grow and the fleet grew, so that at 4 - 5 cavalcades attended per year. The international attention was drawn to these "strange" force, so that the "funny" bikes then could admire and abroad, such as Selestat (F), Arlon (B), Bastogne (B), Trier (D), Trier-Ehrang (D), ... It also came more and more requests from other clubs who wanted to book us as an attraction at their feasts. At these festivals, the audience could then try out the bikes themselves, which of course was designed by the children of the hit.
What about today?
Meanwhile the fleet to over 60 self-construction has grown and there are more and more. The same thing with the requests for appearances, we get more than we can accept. In the carnival season there is no more speare time for members free, but everyone is with body and soul engaged.
What else is there to say?
As the club continued to grow so, has also tried to make our appearance. We all had red, blue or green jackets, so we had to recognize as a unified group. In the 80 years the members were convinced that we would be even funnier if everyone dressed individually, what we did then. In 2000, scholars had recourse to old traditions, and it was bought again uniform costumes.
In Memoriam - Fred Zenner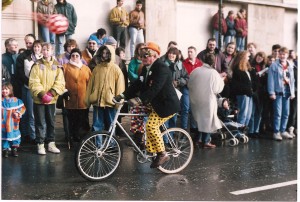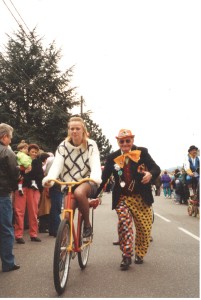 Unfortunately we have to complain about a big loss, our club founder and long-time friend, Fred Zenner, has left us, on 4/20/2014, at the age of 85 years, forever. He will always remain in our memories and will be in our spirt at every event we participate. Fred, we will always miss you!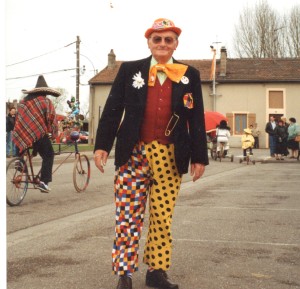 16.05.1928 - 20.04.2014